3 Things to Remember When Taking Listing Photos
Posted on Tuesday, May 24, 2022
Written by Mariah del Mundo
Creating high-quality listings is key to being successful on HipComic and your photos are the first thing your buyer will see. Using clear, well-lit, and distraction-free photos will capture the attention of your buyer and increase your chances of a sale. Here are 3 crucial lessons to take great listing photos:
1. Gather your equipment.
Create a dedicated station with your equipment to take quality photos quickly. If you have an additional light source, place it directly over the books, but avoid placing it too close to eliminate glares. Whether using an iPad or phone, ensure it's parallel to the setup before you snap the photo.
2. Make use of natural lighting.
Don't have lighting equipment? No problem. Natural lighting can produce great photos. Place your photo station near a bright window, but ensure you're not directly in the light to avoid glares. To avoid blurry photos, make sure that you tap the comic book on your iPad or phone to focus your camera before taking the photo.

3. Work your camera angles.
Time and time again, we've seen that listings with quality listing photos sell much faster, and often for higher prices than those without due to clear and centered camera angles. Photos with books that are laid flat and centered perform the next. Check out our guide below: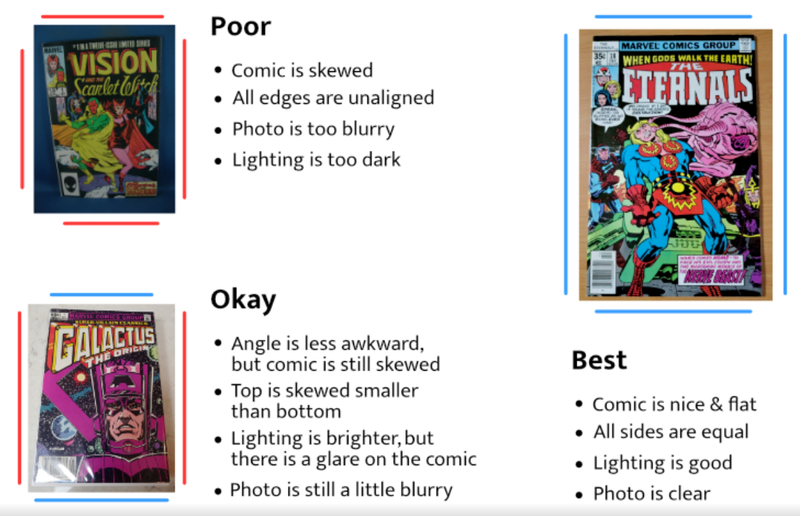 And there you have it, a few ways to make sure your listing photos are seen in the best possible way!